Typically, it takes a professional carpet cleaning company about 30 minutes to
clean one room. However, the time it takes to clean a room can vary depending
on the size of the room and the level of dirt and stains present. For example, a
larger room with heavy soiling may take longer to clean than a smaller room with
light soiling. In addition, the type of carpet fiber and the type of cleaning method
used can also affect the amount of time it takes to clean a room.
For example, some carpet fibers are more resistant to staining than others, and
some cleaning methods are more effective than others. Overall, it is important to
choose a carpet cleaning company that has the experience and expertise to clean
your carpets quickly and thoroughly.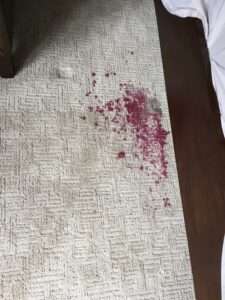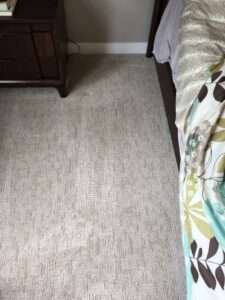 Before Big Ben Cleaning After Big Ben Cleaning
Contact Big Ben Cleaning today!
5 Signs Your Carpets Need Cleaning:
It's not always easy to tell when your carpets need professional cleaning. In fact,
most people only realize they need it when the dirt and dust start to build up. If
you're unsure of how often you should have your carpets cleaned, or if you're just
wondering how long it will take, read on for more information. Professional
carpet cleaning can make a big difference in the appearance and life of your
carpets. Plus, it's a lot easier than trying to clean them yourself!
Here are a few signs that it might be time to call in the professionals:
1. Your carpets are starting to look dull.
2. You have noticed more dirt and dust buildup than usual.
3. There are visible stains or spots on your carpets.
4. You haven't had your carpets cleaned in a while. (We recommend every 12-18
months on average).
5. You have pets or children who play on the floor often.
If you notice any of the above signs, It's probably time to schedule a professional
carpet cleaning appointment. Most companies offer free estimates, so It's easy to
find out how much it will cost. And, most importantly, professional carpet
cleaning will make your carpets look and feel like new again!
Click here for our contact page
If you need a professional carpet cleaning company, be sure to call Big Ben
Cleaning. We have the experience and expertise to clean your carpets quickly and
thoroughly. In addition, we use only the highest-quality products and equipment,
so you can rest assured that your carpets will be cleaned safely and effectively.
Contact us today for a free consultation! https://bigbencleaning.com/contact/
If you have any questions about carpet cleaning, please contact us today. We
would be happy to help you keep your home comfortable, clean, and safe.
Happy Cleaning!
The Team at Big Ben Cleaning Inc.
403-460-8989